Third Party Logistics (3PL), engaged in cold chain food-based business including agency, distribution, warehousing, picking, packing etc.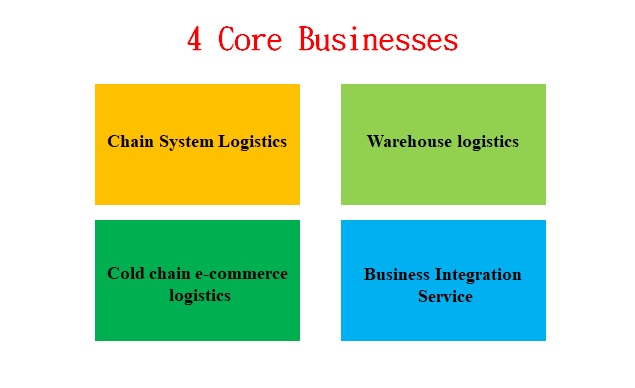 Chain System Logistics
Service type
--Cross-docking logistics
--Picking for minimum unit with electronic label picking system,
--maintaining low inventory levels
Service features
--24/7 services with self-owned and alliance trucks
--Real-time temperature monitoring with GPS
--Appointed time delivery
--1 truck with 3 temperature zones (room temperature, cold, and frozen)
--More then 30,000 items from 1,000 vendors managed by our system.
Warehouse logistics
Service type
--Customers share warehouses, well-trained staff and developed delivery networks to lower their logistic cost.
--Customers benefit from the economies of scale, do not need to invest heavily in systems, technology and logistics expertise.
Service features
--High-density mobile shelves (from the UK)
--Refrigeration units (Bitzer 德國百勝)
--Temperature zone including -35°C(deep-frozen), -25°C(frozen), -18°C~ -20°C(frozen), 0-4°C(chilled), 18-23°C(air conditioning) for different products.
Cold chain e-commerce logistics
Service type
--Complete cold chain food traceability with strict inspection measures
--Dedicated and well-developed cold chain logistics facility.
Service features
--Product acceptance with PDA
--Inspection of car temperature and product temperature
--
Adopting Put-to-light(播種式) picking system to increase efficiency --
Using Quality control system to provide accurate picking service
Business Integration Service
Service type
--Provide purchasing service, import customs clearance service etc.
--Become a brand agent, responsible for business development and maintenance of Taiwan market
Service features
--Extending from the basis of logistics services to agency & supply chain services.
--Integrate well-known brands at home and abroad, and collaborate in business with domestic and foreign companies.